Switch to the "Application Shortcuts" tab and use the "Add" button to create a new shortcut.
Enter xfce4-terminal --drop-down as the shortcut.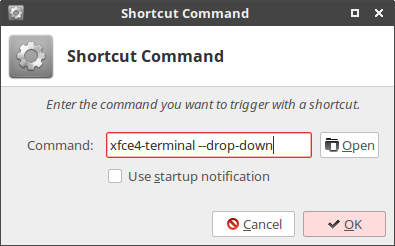 3. Enter the shortcut
XFCE will prompt for a shortcut once the command has been added. I went with SUPER+`, but F12 is another popular shortcut.
Once set up the shortcut key will show a terminal window at the top of the screen. Pressing it again will hide the window - the window keeps its previous contents so it can be hidden without losing anything.